Mobile ads have become a beneficial part of digital marketing and you business totally needs them to survive. Life is so much easier. Living in the social media era, you brand is not just being promoted on the TV or newspaper. You don't need to wait until the next TV commercial to see your product being advertised. Nowadays you can target consumers on-the-go, through the broadly known social media platforms, such as Instagram, Facebook, Google etc.
It is crucial to be aware of the correct use of mobile ads. They have the potential of reaching thousands of consumers, since the 80% of internet users own a smartphone. However, the 70% of them have reported against  mobile ads. The trick here is how do you create ads that won't annoy people and instead encourage them to click and eventually buy?
With a few easy-to-implement tips, your mobile ads can stand out from the rest.
Let's take a look at how to create mobile ads that will undoubtedly get clicks.
The caption must be gripping and the images striking.
It's true, there is destruction everywhere. Consumers cannot be focused on one thing while browsing the web, because there are a million different elements trying to catch their eye.
Step one and most important: Always consider a compelling and noticeable caption as well as distinctive images. While writing a caption for your mobile ad, always have in the back of your mind, that the aim is not only to sell your product, but also spark emotions and curiosity in your audience.  The bottom line, the more relatable stories you put up, the more clicks you'll get.
Take for example this sponsored ad of 8fit app, the caption focuses on inspiring the user to change their life rather than just asking them to buy something.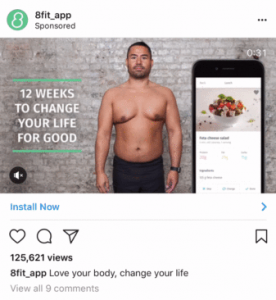 They also flip back and forth between striking before and after photos of what results users can expect when they change their lives as well as feature an eye-catching and colorful preview of the app. A striking image will get users to stop and take a longer look at your ad, and a meaningful caption should inspire them to click.
Make the ads interactive.
Give your audience a reason to click on them ads. Make them interactive. Make them engaging. The positive aspect to interactive ads aka immersive ads is that it engages the users to click through it, for example the ad could be leading to the website.  In fact, interactive ads are boosting the number of time consumers spend with a brand by 47 percent compared to non-interactive ads.
Make it a memorable experience. Instead of a regular mobile ad, you can transform your ads into a more entertaining experience for users — it's almost like turning your ad into a game. Plus even if a user doesn't click through to your website, a user can click around your interactive ad and become more aware of your brand and they'll remember that experience.
Target your ads.
Another awesome way to get more clicks on your mobile ad is to make sure your ad is shown to the users who are most likely to click on it in the first place. There's a diverse and wide audience online and not everyone will be your ideal customer. So, every mobile ad you run should be targeted to a specific location and demographic that matches the type of people you want to be your customers.
With Facebook, Instagram, and Google mobile ads, you can make sure your ads are shown to the people who will be most interested in your business and most likely to click. You can choose the users who you want to reach in certain locations or countries, select your audience based on gender, age, education, relationship status, etc., and based on their interests and hobbies. You can even target your ads to users based on their prior purchase behaviors, device usage, and more.
Test out multiple designs.
Do not underestimate the power of a good design in an ad. An aesthetically pleasing design can increase drastically the clicks. It's up to you to find the best combination according to your target audience's needs and likes,  that gets them to click. You should test out the colors, the images, the fonts, every element you think can be altered and changed in order to bring out the best outcome.
Testing out multiple mobile ad designs (A/B testing) will help you determine which formats, images, fonts, illustrations, and buttons will perform best with the different segments of your audience. Once you know what type of ads get the most clicks, you won't be wasting your time creating ads that your audience isn't drawn to.
Over to you.
Creating a mobile ad that consumers actually want to click on can be a difficult task.
But not anymore!
With these tips for creating mobile ads that get clicks, your ideal customers will stop in their tracks when they see your ad online, which in turn will lead to more website traffic and increased sales for your business.